A lot of people look fondly on their early years by reminiscing about their first memory of riding a bike or making a friend in kindergarten.
I often look back on my first memories of television. (Shocker!)
There are loads of late '90s – early 2000s TV shows that blared in the background of my youth––Braceface, The Winx Club, Inspector Gadget, Boy Meets World…but there were very few that held my attention for 30 to 60 minutes once a week. I was busy in my own world of Barbie dolls and Sailor Moon fanfiction written in 2nd-grade English.
But occasionally, I hear a song on the radio that takes me back to sitting on reddish carpeted ground in the basement and enjoying an evening with my family after school and homework and dinner. Some on this list are more well-known than others, but some of my earliest memories in my family's first house involve watching these with my sister or with the whole family.
1. Wishbone (PBS, 1995 – 1999)
PBS kids, rejoice! I'm not sure how many of us actually forgot about Wishbone at all, for it definitely featured in the after-school routines of many kids my age. Wishbone was a PBS show that spanned two seasons, and its premise centered around an adorable Jack Russell terrier who went on whimsical adventures mirroring the plots of various literary classics. In each episode (narrated by the dog's sassy stream of consciousness of course), Wishbone would "daydream" himself into a main literary figure–anyone from Robin Hood to Romeo Montague–allowing the show to effortlessly recreate time-honored stories in a form young audiences could understand. And actually pay attention to. I mean, when a little dog shows up wearing this outfit:
and talking about solving mysteries, you gotta tune in, right? (Fun fact: the show did two Sherlock Holmes episodes. …No, I'm not queuing them up on YouTube right now…that would be ridiculous.)
Wishbone ran in syndication until 2001, which is probably why I remember it so often and so fondly. I watched repeat episodes countless times with my sister, and the show really impacted my love of literature. I've always enjoyed reading, but Wishbone provided an entertaining, age-appropriate outlook on some of the classics I would grow up to read both in and out of school. And no matter how old I get, I still think of the witty, big-brained terrier when I crack open a member of the literary canon.
He was a charming Mr. Darcy, by the way.
2. Growing Up Gotti (A&E, 2004 – 2005)
The fact that I was ever addicted to a reality TV show makes me cringe every time I think about it. However, my family is (a) Italian-American and (b) obsessed with reality television. Today, when you put those two together, you get Mob Wives. In 2004, you got Growing Up Gotti.
As with most reality television, there wasn't really a premise to this show at all. It featured the daughter of mobster John Gotti, Victoria, and her three sons; Carmine, John, and Frankie. I don't remember much about this show except:
There was a lot of yelling about hair gel,
John Gotti Agnello (second from the very orange brother on the left) was the love of my 11-year-old life, and
The theme song was "These Boots Were Made for Walkin'" which I'm not sure had anything to do with the show.
There was nothing appealing about any of these people, but their dropped r's and botched Italian curse words, frankly, felt like home. This family was just fun to laugh at; their mannerisms were familiar, and the boys were cuuuuuute. Every guidette's dream. For a while there, I started calling my mom "Ma!" in a husky Italian man's voice. TV's influence on my life knows no bounds.
I don't think I even knew what a mafia was when this aired. My viewing must have been quite different from most.
Neither of my parents has quit their reality TV obsession. I'm happy to say mine stopped here.
3. Providence (NBC, 1999 – 2002)
This was a popular show in my house because, as the title suggests, it was set in the city where I grew up. It was a mainstream TV drama that my parents watched regularly, and I'd tune in and out as well. It was my first exposure to the John Lennon classic "In My Life" (an obscure cover was the show's theme song), and also, as a kid I was 100% convinced the show was entirely filmed not in a studio lot but in the city I knew well. This show meant Providence was famous. Obviously.
Only after looking it up did I realize how weird it was. The show was about a plastic surgeon named Sydney Hansen (Melina Kanakaredes) who returns home to Rhode Island to to get her family's life back in order. Except she talks to the dead. Except only to her dead mom.
I definitely did not remember that part. I remember the mother appearing in various scenes, but that's exactly what I thought she did: just show up at convenient times. Nope. She was dead.
Wow. What a downer.
4. Beyond Belief: Fact or Fiction (FOX, 1997-2002)
This was my first exposure to scary stuff (thanks, Dad). Beyond Belief, a show that featured various reenactments of strange supernatural happenings, delighted me as a kid because I felt cool enough to watch something scary. Looking back, this show was like The X-Files meets 60 Minutes. Each episode featured 5 different spooky short stories introduced by a very serious suited narrator, and it was the audience's job to determine whether the stories were based in fact or fiction. In the end, the host would reveal the correct answers. It was like a game show that came with nightmares! The most chilling stories, of course, were those that turned out to be based in truth. The show's Wikipedia page features an episode list that bolds all the stories that were true. Imagine the dedication of whoever edited that section!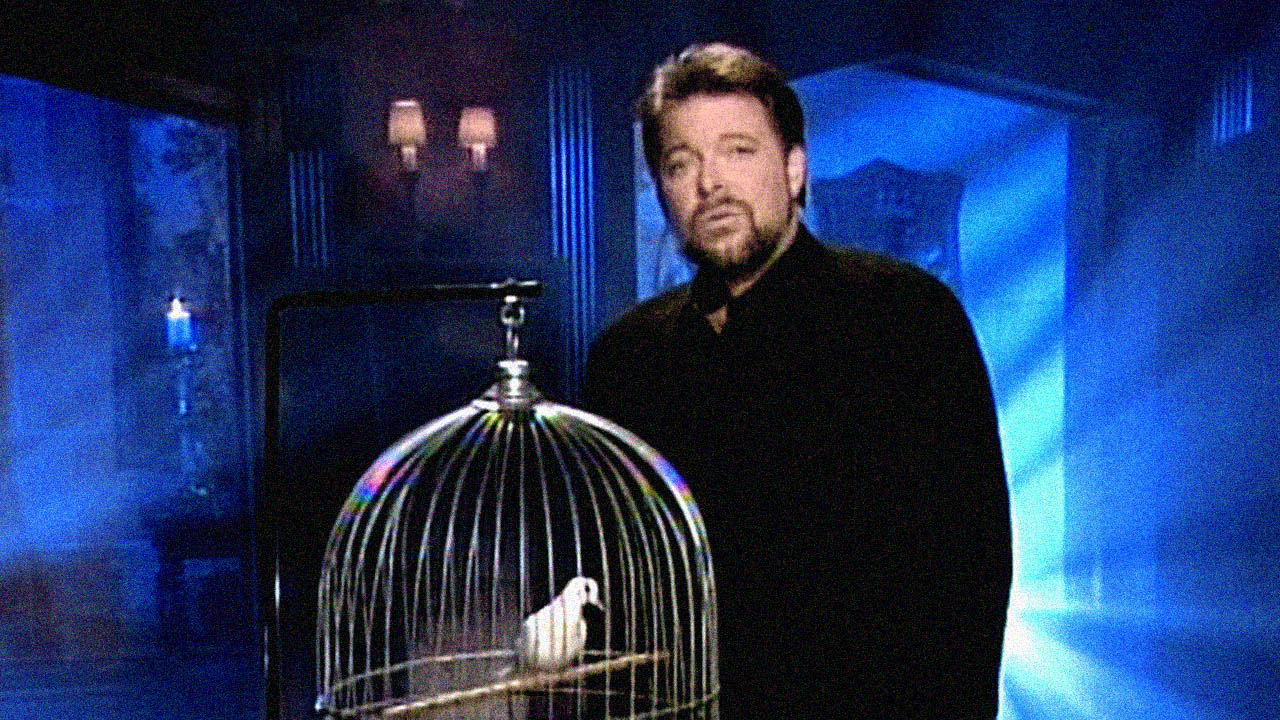 Now that I've seen almost every Star Trek series, I find it hilarious that Jonathan Frakes hosted 3 out of 4 of the seasons. I knew I'd seen him somewhere! (Before you ask, I have no idea what that bird is doing in the shot.)
5. Joan of Arcadia (CBS, 2003 – 2005)
I've decided there is no conceivable way for anyone my age to have grown up Catholic without watching Joan of Arcadia. And it actually was, objectively, a pretty good show. Its first season was even nominated for an Emmy.
As I entered my preteen years, this was the it show for me. Just look at all that teen angst!
Basically, the show was a modernized version of the Biblical Joan of Arc story with a lot less burning at the stake and the same amount of talking to God. To give her tasks to complete for the greater good, God would appear to Joan Girardi as various figures in her day-to-day. That was the draw for me as a Catholic school kid. Where's God now?! Is He the florist? The bus driver? I found Joan's general skepticism and exasperation with God's strange requests in each episode relatable, and I remember really wanting to hang out with her. A too-cool teen who was also in touch with the Almighty? Friend goals. Also, Amber Tamblyn plays exasperated really, really well. I followed her career after that through The Sisterhood of the Traveling Pants and House.
Seriously, though. What if God was one of us?
6. State of Grace (FOX Family, 2001 – 2002)
Finally, we have the show that inspired this post. It took me hours of research in the middle of the night a few years back to find out what this show was called, because all I could remember was the theme song on loop in my head:
Do you believe in magic
in a young girl's heart?
How the music can free her
whenever it starts?
I believe State of Grace was my first true foray into television outside cartoons and kids' shows (I caught most of the others on this list in their later seasons). Remember when Freeform was ABC Family? How about when when ABC Family was FOX Family? Yeah, this show goes way back, and it was a true family favorite. I just remember it being so pure and fun, focused primarily on the friendship of two girls from very different worlds–Hannah, of a traditional Jewish family, and Grace, of an aristocratic Catholic Chicago family. They become instant friends in North Carolina in 1965 and the show, narrated by an older Hannah, tells the story of their friendship. Though it was primarily a comedy, State of Grace dealt with some serious issues, too–about identity, alcoholism, and religion–and I remember them resonating with me long after the episodes aired. I remember being on the edge of my seat waiting for this show to air. It wasn't hugely dramatic or overstated, and I think that was exactly why I liked it. It was just about two girls around my age at the time who loved each other despite their many differences, and it really resonated with me.
Plus, this show kickstarted my obsession with Alia Shawkat (Hannah) that has not died down in the least (have you seen her as Hamilton in Drunk History?). And look how cute she looks here (on the right)!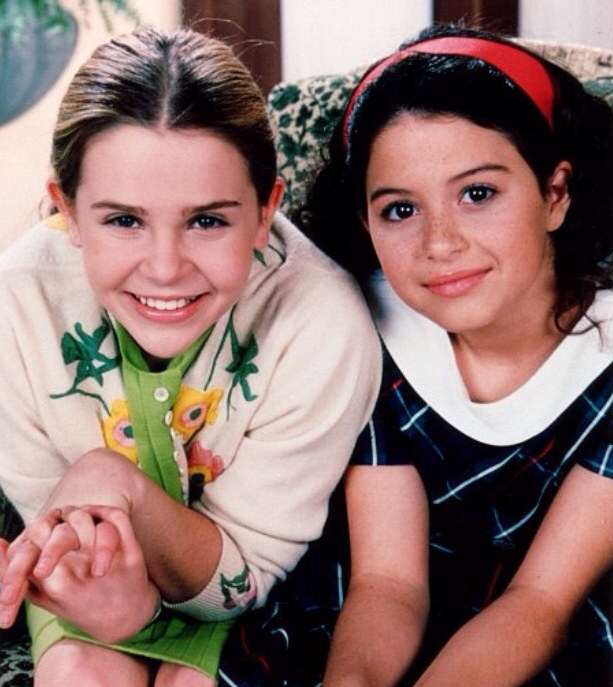 Little did I know that I'd rediscover both Alia Shawkat and Mae Whitman (Grace) in binge-watching Arrested Development during college, prompting my rediscovery of this fun little gem.
The show was considered a more female-focused companion to The Wonder Years, and from what I read, a lot of people loved it. But once FOX Family was bought out by Disney, State of Grace was axed after 2 seasons for not fitting ABC Family's "vision." It's a shame, because I and many others remember the show very fondly–and it probably would've been just as successful as The Wonder Years had it been given the chance.
In case you were curious, here is the theme song that, while charming, has been the star of many of my insomnia-induced nights awake. Curse you, State of Grace, for getting canceled so prematurely that it took me a decade to remember you!
---
It might not seem like these shows have anything in common. But to me, they do. They speak to the fact that I always find something of value to take home in the media I consume, which is why I want to write in the first place. What's the point of writing if the reader doesn't get anything out of it? These shows were what I watched after school or what my parents turned on at the same time every week for all of us to watch. In small ways, they each represented my passion, my heritage, my home city, my family's values. They reflected my parents' personalities and interests, aspects of which were passed along to me through shows like these.
Oh, and one of them got me into spooky shit. I've been intentionally scaring myself ever since.
You know what they say. You are what you watch. Or maybe only I say that.